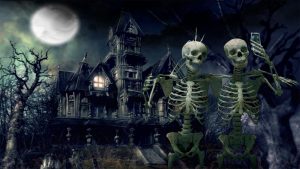 Wednesday 28th October 2015
If you go down to the woods today you're in for a big surprise!
If you go down to the woods today you'll never believe your eyes!
The night trail is back but with a difference and is not for the faint hearted, you never know what spooks are down in those woods, or what sounds you may hear behind you…
Keep your eyes open for that chainsaw mad man he just loves runners.
This route is fairly flat with some great views, but once you enter into the woods be afraid be very afraid as you never know who you might bump into!
This race is not for the faint hearted and not recommended if you are pregnant or have any heart conditions.
Why not come in fancy dress for the occasion? Prize given to the best costume.
Halloween 5k Night Trail will be taking place on Wednesday 28th October 2015 at 19:00, registration from 18:00.
Important information
Updated 20th October. Important information; please download and read the Halloween Info Sheet.
Prizes
Prize for 1st, 2nd and 3rd.
Prize for the best costume is a FREE meal for two at the Talpore.
Plus everyone who crosses the finishing line will get a prize (subject to availability).
Required Kit
Head Torches are Mandatory – No Head torch no run!
Amenities
Free parking, toilets and a bar with plenty of flowing beverages.
Venue and Registration
Starting and finishing at the Tees Barrage White Water Course
Online registration is available here or you can register on the night.
Collect your running number and on the night registration is 18:00 – 18:45 is upstairs inside the Talpore.
Talpore,
Whitewater Way,
Thornaby,
Stockton-on-Tees
TS17 6QB
Cost
Age on race day: 15+
£5 if affiliated, £7 if unattached
Route