Thank you for entering Lordstones 5km Trail Race (part of the summer series). Detailed below is some important information about the event. Please read the information carefully, if you have any questions do not hesitate to contact us. Online entries close on Friday 9th July at midnight.
LOCATION: Lordstones, Carlton Bank, Chop Gate, Middlesbrough TS9 7JH
REGISTRATION: In Lordstones Cafe. On entering, please wear your mask. Please stick to the Covid-19 guidelines for social distancing, please note no personal belongings can be left in Lordstones at any point, these must be left in the vehicle you arrived in. Make sure you bring your race number along with you if you have already completed any of the races in the summer series 'this will have 'pine forest' on the bottom. If you forget or lose your number, it will cost an additional £1 to replace it.
PARKING: FREE parking is available on site (limited) Please do not car share unless you are coming from the same household or bubble. If you arrive early, please remain in your car until it is time to collect your race number/register.
WAVE TIMES
These are the registration and wave times. You will be emailed your specific registration and wave time separately on Saturday evening, please check your junk/spam mail if you don't receive it.  It is important that you attend registration and your wave time that has been specified to you as we have a high volume of runners attending. It is paramount we stick to the guidelines for these events to continue (not much longer hopefully). The waves have been organised by your given estimated run times. Once you have been given your wave time it cannot be changed. If you cannot attend, please let us know, you can transfer your place to someone else up until Sunday 11th July all you need to do is email us with the other runners' details.
Wave 1 – Registration at 18:40 Race start time = 19:00 Prompt
Wave 2 – Registration at 18:50 Race start time = 19:05
Wave 3 – Registration at 18:55 Race start time = 19:10
Wave 4 – Registration at 19:00 Race start time = 19:15
Wave 5 – Registration at 19:05 Race start time = 19:20
FACILITIES: There are toilet and refreshments available at Lordstones and the Bar will be open for those who fancy a tipple afterwards. Please do not enter Lordstones with muddy shoes.
THE COURSE: It is a multi-terrain 1 lap course of approx. 5k in length.  The course is undulating with a couple of ascent but also with some great descents. Once you have reached the top the views are amazing so take your time to enjoy them. The course is all off road, with some section with stones/small rocks so please take care around those areas. The course can become a little muddy in areas in wet weather so again please take care on those sections (hopefully the sun will be shining, its on order!)
There will be our wonderful tail runner Holly and marshals on course, if you have any problems please go to the nearest marshal, for assistance. The course: Lordstones 5km Route
START & FINISH: Once you have collected your race number/signed in please make your way to the start. The Start is approximately 0.6km from registration (see map below). You are walking down a live road so please take care. The finish is approx. 200 meters from registration.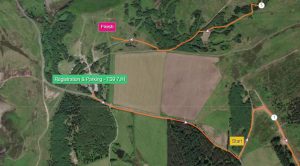 IMPORTANT: there to be absolutely no clearing of nasal or respiratory secretions whilst waiting or running. If necessary, it must be done at least 10m away from anyone else on course.
Participants advised not to run in slipstream of other participants.
FINISH: Once you have come over the 'finish mat' please refrain from hanging around the finish area waiting for any other runners to come through. This will reduce the number of people collating around the finish thus the risk of Covid The bar is open! So, if you fancy a refreshment after the race and enjoy the views. There is outdoor seating.
FIRST AID: There will be 2 First aiders (Total Events Safety Team) on site and on the course. If you require attention/help during the race or after, please ask any marshal who will contact the first aiders.
Covid-19
 If you are showing any signs of Covid-19 symptoms, please DO NOT attend the event:
A high temperature
A new, or continuous cough
In addition, you should not attend if you have:
Been in contact with anyone showing and signs of Covid-19 symptoms in the past 14 days
Been asked to self-isolate by the NHS track and trace service
Travelled within the last 14 days to an international location where self-isolation is required following your visit.
*Please dispose of any face masks in the bins provided, do not dispose them on or around the course.
RACE RESULTS & PRIZES
The race results will be available on  www.muddyroads.co.uk Visit our page: https://www.facebook.com/trailraces/ after the event.
Prizes given for 1st 2nd and 3rd male and female winners. These will be given as the runners via post.
We sincerely hope that you enjoy the event, and we are really looking forward to seeing you. Please stick to the guidelines and we can all continue to enjoy the events in the future.
Have a great run!