Hello Muddy Runners,
Thank you for entering the Pine Forest 5km Trail Race. Detailed below is some important information about the event. Please read the information carefully, if you have any questions do not hesitate to contact Gary (Race Director) at events@muddyroads.co.uk
LOCATION: Visitors Centre, Woodland Country Park, Flatts Lane, Normanby, Middlesbrough, Tees Valley, TS6 0NN
REGISTRATION: Please register or collect your race number from The Norman Conquest Pub, Guildford Rd, Middlesbrough TS6 0QA at 17:30 -18:20 it is only 0.5km from the start, see map below, If you have already participated in a previous 'summer series' event please bring your number to registration: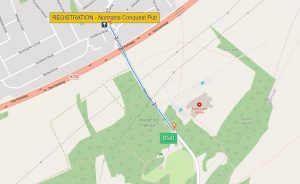 PARKING: FREE parking is available at the Normans Conquest Pub (registration)
FACILITIES: There are toilet and refreshments available at registration before and after the event.  Please do not leave any personal belongings in the pub. Greene King PLC or Muddy Roads will not be held liable for any loss or damage to your items. Please place these in the boot of your car.
RACE & COURSE: The terrain is very mixed with a little of everything from trail to grass. Its undulating with some steep descents so please be careful.  Normal running shoes will be totally fine on this course. The course will take you up to the top of the Pine Forest to the spectacular views of Roseberry Topping (on the left, enjoy the views)!
There will be a tail runner and marshals on course, if you have any problems please go to the nearest marshal, for assistance.   The course: The Pine Forest 5km Route
START & FINISH: Once you have registered/collected your race number please make your way to the start situated in Flatts Lane Country Park. The finish is located on the same field as the start adjacent to the visitors' centre.
FIRST AID: There will be First aiders (Total Events Safety Team) on site and on the course. If you require attention/help during the race or after, please ask any marshal who will contact the first aiders.
Covid-19
 If you are showing any signs of Covid-19 symptoms, please DO NOT attend the event:
A high temperature
A new, or continuous cough
RACE RESULTS & PRIZES: The race results will be available on  www.muddyroads.co.uk Visit our page: https://www.facebook.com/trailraces/ after the event.
Prizes given for 1st 2nd and 3rd male and female winners.
We hope you enjoy the event and look forward to seeing you.