Dear Muddy Runners,
Thank you for entering the Pizza 8km Trail Race. Detailed below is some important information about the
event. Please read the information carefully, if you have any questions do not hesitate to contact Gary (Race
Director) at events@muddyroads.co.uk
REGISTRATION: In New Marske Sports Club, 2 Gurney St, New Marske, Redcar TS11 8EQ Please
collect your race number from here. This is 1 mile away from the start line so please allow enough time for
your travel, number collection and to get to the start. Please see the map below Registration will open at
09:30 – 10:30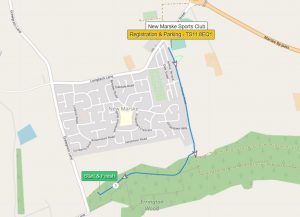 PARKING: FREE parking is available at the Sports Club and is available on the New Marske housing estate close by.
*IMPORTANT – Under no circumstances must you park on the lane/road approaching the event site (start)
(this is out of bounds)
FACILITIES: There are toilets available at the Sports Club (registration) so please make sure you visit them before you
head to the start line. You can leave any bags or belongings at the club (this is at your own risk and muddy
roads/sports club will not be held responsible for any loss or damage)
The Sports Club will also be offering Sunday lunches and beverages if you and your family
want lunch before heading off for the day.
RACE & COURSE: The terrain is very mixed with a little of everything from trail to grass. Its undulating with plenty of
downhills and flat surface. Normal running shoes will be totally fine in dry weather, can become muddy in
wet weather conditions (let's hope the sun is shining). The course will take you up to the top of Errington
Woods to the spectacular views of Roseberry Topping, and Saltburn Cliffs (on the right, enjoy the views)!
There will be a tail runner and marshals on course, if you have any problems please go to the nearest
marshal, for assistance. There will also be plenty of direction arrows both eye level and on the floor (white
spray paint) so keep an eye out for them.
START & FINISH: Once you have collected your race number, please make your way to the start it is 1 mile away so please
allow enough time to get there (use it as your warmup) (see map above).
Once you have come over the 'finish mat' (near the start) collect your medal and head to the pizza unit to
collect your pizza straight away, this will reduce the amount of time queuing for your pizza!
PIZZA COLLECTION: The best bit, and what you have worked hard for! Unfortunately, Napoli Pizza can't join us this year,
however 'You Knead Pizza' will be there to dish up your delicious pizza instead. Should you wish to have a
second or third slice bring your money/card along with you. Any spectators/family members can also take
advantage of the pizzas and purchase as many as they wish.
MEDALS: You collect your super-duper bespoke medal as soon as you come through the finish, wear it with pride you
have earned it.
FIRST AID: There will be 3 First aiders (Total Events Safety Team) on site and on the course. If you require
attention/help during the race or after, please ask any marshal who will contact the first aiders.
MARSHALS NEEDED: We are still needing marshals for the course, if you have any friends or family members who would like to
be involved, please let us know by email: events@muddyroads.co.uk
All marshals will receive £10 travel expenses and a Free slice of pizza of their choice.
Covid-19
 If you have tested positive for Covid-19 please do not attend the event.
RACE RESULTS & PRIZES
The race results will be available on www.muddyroads.co.uk Visit our page:
https://www.facebook.com/trailraces/ after the event.
Prizes given for 1st 2nd and 3rd male and female winners. These will be given as they run through the finish.
CONTACT:
Gary (event organiser) on 07769 705478 or events@muddyroads.co.uk
We sincerely hope that you enjoy the event, and we are really looking forward to seeing you.
Have a great run!