Great race report courtesy of Mark Raine – Sedgefield Harriers Well there was no mistaking the season that's fast approaching us as we arrived at Kirkleatham on a cold Sunday morning.  Everywhere you looked there were Santas, Elves and even a 6ft Frosty the snowman milling around and stretching.  Had I really turned up at local trail race! The atmosphere was great and registration was a straightforward process – mention who you were, grab your barcode, attach to self and you were done. Making my way to the start I felt somewhat under-dressed in my running kit and only a Santa Hat, which was either slipping down over my eyes or blowing off the back of my head!  After a short race briefing and a sly smile about the numerous puddles we were off.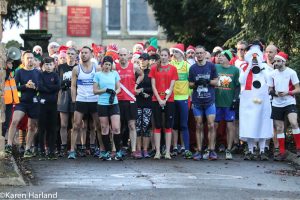 The route took us straight into the partly waterlogged fields.  The going was tough, the water cold but everyone was having a blast.  Off the fields and into the twisty wooded section allowed the legs to get into some rhythm.  We then doubled back on ourselves and the strange sight of several Elves charging towards me.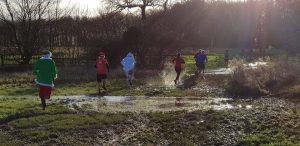 Another mile ticked off and that bit closer to the chocolates at the end. A short section back in the fields, a tight u-turn that seemed to sap the energy and we were heading for the finish but not before passing a muddy snowman running down the track. Not something you see every day!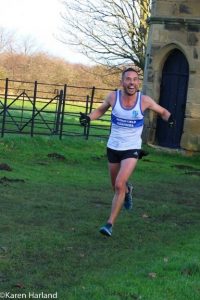 The event was well marshalled and all the volunteers were really supportive.  The selection box was a lovely treat at the finish and there was even the option to have a 'cuddle' with Frosty if you wanted an embarrassing photo of yourself!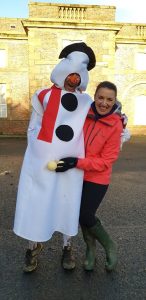 Another great Muddy Roads event.  Looking forward to joining you all for many more in 2020.
Merry Christmas Everyone
Mark Raine
Sedgefield Harriers