Dear fellow runner, Thank you for entering the Pie & Pea's 5k Night Trail 2020. Detailed below is some important information about the event. Please read the information carefully, if you have any questions do not hesitate to contact Gary or Victoria (Event Organisers) at
events@muddyroads.co.uk
The distance is 5k and does include some dark desolate areas in which care must be taken. Please take the time to read the race risk assessment that will be in place at the registration in registration (community centre). LOCATION (Registration):- Trimdon Grange Community Centre, Salters Ln, Trimdon Grange, Trimdon Station TS29 6PB FACILITIES:- There are refreshments available (tea & coffee). Toilets are available, although there are no showers. Please bring a spare pair of shoes to change into in case the course is wet and muddy for when you come back into the centre for your pie n peas 😊
PIE & PIES
Your Pie & Pies will be ready and available straight after the race. Once you have crossed the finish line collect and enjoy!  These pies are from Petches in Great Ayton and are absolutely delicious! You can eat these inside the community centre where table and chairs will be available.
NO muddy shoes
to be worn inside the centre. PARKING:- FREE parking is available on site (limited) but also surrounding areas. RACE:- Tuesday 18
h
February 2020 starting at 19:00. It is a multi-terrain course of 5k in length. The start & finish are located on the field 600 meters from registration.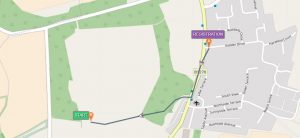 You will be crossing over a live road to get to the start so please take care when crossing. You MUST wear your head torches at all times throughout the race. There are some really dark sections so make sure you have tested your head torches before you come to the event to check that they are working correctly and are bright! There will be a tail runner and marshals on course, if you have any problems please go to the nearest marshal. THE COURSE: The course is multi-terrain with some challenging sections, trail shoes are advised if you have any, if not normal running shoes are fine. Starting on a small section of good condition field you will then go through a gate leading you across a live (but quiet) road. There will be two marshals to help guide you across, please abide by the green cross code when crossing this road (the road will not be closed). Once across the road you will then hit a great trail path for 0.8 miles before taking a right turn up a small number of wooden steps with a marshal guiding you to the right and up alongside the quarry. Following the trail along the top and down through the field before hitting a great woodland section. As with most woodland areas it also comes with some hazards underfoot so please be careful of the tree roots!  There are some steps to climbs and to come down but very few so don't worry. Once you have been through the great woodland you will then be well on your way back to the finish which is in the same location as the start.  If the weather conditions are poor in the lead up to the event there will be sections that are wet and muddy so care must be taken to avoid any incidents. There will be a first aider out on the course as well as at the start/finish area, should you need any assistance please inform the nearest marshal who can get first aid to you.  The course will be well marked out with plenty of spray-painted floor arrows so look out for them. Other Arrows, hazard tape and other guidance will also be out on course.
FIRST AID:- First aiders (T.E.S.T- Total Event Safety Teams) will be on the course. If you require attention/help during the race or after please ask any marshal who will contact the first aiders. RACE NUMBERS:- Race numbers (barcode) will be collected on the day in registration in the Community Centre. Please keep these secure with you as you will need them as you come through the finish funnel. The timing system is exactly the same as Parkrun so please make sure you collect your pos tag at the finish and get your barcode and pos scanned (no scan no time) RACE RESULTS & PRIZE CEREMONEY:- The race results will be available on  
www.muddyroads.co.uk
on facebook? Visit our page:
https://www.facebook.com/trailraces/
Prizes given for 1st 2nd and 3rd male and female winners. CONTACT:- Muddy Roads: 07305545003/07769705478 or
events@muddyroads.co.uk
We hope you enjoy the event 😀